Diving Deep Into the Heart of McClancy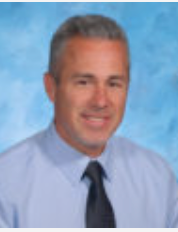 Everyone here in the McClancy family knows Mr. Castrataro well, whether he's roaming around your lunch trying to crack you up with a joke or two, or he's in the hallways offering a kind smile to a passing student. Mr. Castrataro is always trying to make McClancy a more bright and happy environment for his students, but how well do we actually know Mr. Castrataro? Hopefully, after reading this article, you'll feel a little closer to our kind-hearted principal. 
At the root, Mr. Castrataro is a family man. When he os away from his McClancy family he is with his real family. He has four beautiful children and a loving wife, and if he's not with them you can probably find him munching on some homemade rice Krispy treats and watching home improvement shows. According to him, the rice krispy's being homemade is very important. Store-bought ones just won't cut it, they're not the same. If he's not there eating his savory snack and watching television, he's more likely than not hanging with his Classic Camaro in his driveway. If there's one thing Mr. Castrataro knows, it's cars. His Classic Camaro is probably one of his most prized possessions. He takes a lot of pride in it and all of its timeless glory. 
If all else fails, Mr. Castrataro could be found watching baseball. Baseball plays a huge role in Mr. Castrataro's life. When he was younger he worked at a baseball camp, that's where he not only found his passion for teaching but where he met his wife. At the time, she was also working at the camp, she was playing catch with another coach. Mr. Castrataro saw her and said she had a great arm, so he went over and asked her out. Not only did this heartwarming story come from baseball but so did his teaching career. Mr. Castrataro says that after his time coaching little league baseball he decided to take some education courses in college, and after graduating, he got a job here at McClancy. Baseball is so big in his family's life they even named their two dogs after famous baseball players. 
There are other little things about Mr. Castrataro that make him the great guy he is. Like that he loves what he refers to as "dad music." He loves alternative and classic rock. He loves star wars, he doesn't like fishing or hunting, he's a Knicks fan and a Jets fan, and if he could only eat one food for the rest of his life it would be Pizza, most specifically Frank Pepe's Pizza. One piece of advice he said he would give to all of his students is to make sure they go into a field that they enjoy. Don't waste your life away at some job you don't like, find passion in your work. 
If you know Mr. Castrataro, you know he loves his dad jokes. So, as this article concludes, I leave you with one of his favorites:
How many tickles does it take to get an octopus to laugh?
TEN-tickles!