School Survival Tip 1: Surviving Midterms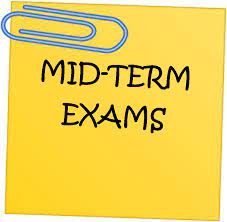 Midterms week is a stressful time for students, so here are some ways to relieve your stress from your studies!
 First off, you can meditate by simply sitting in a quiet place that brings you peace. If you want, you can also play calm music to help you clear your mind. If that doesn't strike your interest, consider going outside to take a walk, as it could also help clear your mind. Getting a breath of fresh air always helps, and it could especially help you decompress during weeks like this. Don't forget to get lots of sleep as well, at least eight hours a night. Getting a good night's sleep helps relieve stress and makes you more energized for when it's time for test-taking. If you've done all these but still find yourself stressed while taking a test, try taking deep breaths to get your mind back on track and get you that good grade you deserve.