New Year New Screens!
Before Christmas break, students noticed large TV screens in their boxes at the back of each classroom. Now, these new screens have replaced the old smartboards and enhance our learning experience. During the break, this new technology was installed in each classroom and greeted everyone on the first day back. Everyone has loved these new additions and is looking forward to using them. I had a chance to talk with Mr. McNally, who was willing to give me an explanation, to help us understand why these new screens were installed and their impact on the McClancy community.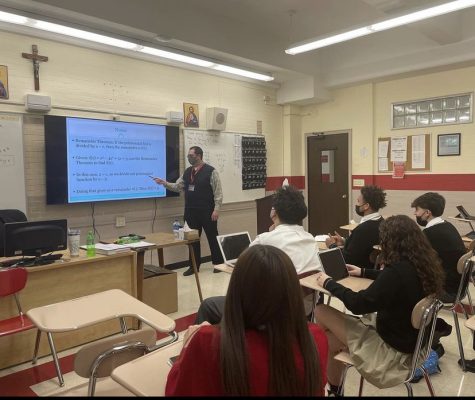 He says that the reason these screens were added is because schools have to "keep up with the new technology by making sure people have the best items to maximize their educational process." In a digital age, this is very true, as many schools in our area have been upgrading their technology, and McClancy is no exception. Mr. McNally also says that the faculty have "adjusted well" and are happy to have the new TVs, as it "allows them to show videos more efficiently and display PowerPoints." Not only does he want the teachers to enjoy this new technology, but he also wants students to be able "to do presentations on their own and understand that innovation is key to learning." From a personal perspective, these new TVs have already had a major impact on the way students learn and how they interact with their teachers during discussions and presentations. With the new technology and the upgrade on our field, I asked Mr. McNally what future improvements and additions this school will see. He stated that the school building "is continuing to make improvements in order to make all students' high school experience a memorable one." This school will certainly continue to expand and improve so that future students and faculty can come and contribute to the school that makes a difference.