Tyros Drama Club Member, Kate Devlin, goes to Broadway!
During this past summer, I went to the "Broadway Workshops: summer program. I was in a vocal group so I would have vocal classes every day with Danny Quadrino as my instructor. Danny starred as Mike
TeeVee in the national tour of the Broadway musical, "Charlie and the Chocolate Factory." Danny was such a great instructor and has helped me a lot with my singing. On the third day of my vocal class, we had a guest vocal instructor, my instructor was Krystina Alabado from the Broadway show "Mean Girls". I am so grateful that I had Krystina as my guest instructor because she taught me how to act while singing and how to connect with people while singing.
Additionally, I had dance classes with instructors who taught me different dances from the productions they were in. My favorite dance was from the Broadway show "The Prom." I also had an improv class with actor Kathy Searle, a monologue class with Christina Sajous of "SpongeBob SquarePants the Musical", and a commercial on-camera class with Destinee Rea of "Amélie".
One day, we had a special guest chat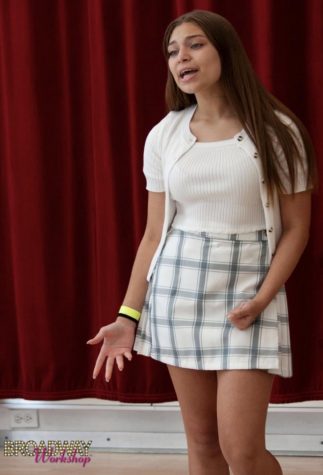 with Presley Ryan, a 17-year-old senior who played Lydia in the musical "Beetlejuice." Meeting her made me so happy and inspired because it was easy to relate to her and see her live out her dream at a young age.
On the last day, we had a mock audition for "Pippin" and I got to read the main role. After the audition, I received my last dance class with Nick Burroughs from "Kinky Boots" and that concluded my experience at the Broadway Workshop. All of these classes have helped me in advancing my acting skills and how to be a more natural actor.