Best Thanksgiving Dessert Recipes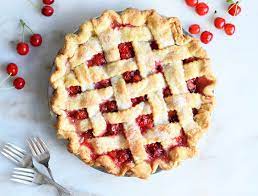 Thanksgiving is all about making the perfect main course, so much so that dessert tends to be forgotten about. People tend to buy from a store, or not try too hard. However with these two easy pie recipes, there is no reason to not thrive with your Thanksgiving sweets.
Apple Pie
Ingredients:
– 1 box Pillsbury pie crust
– 6 cups thinly sliced, peeled apples 3/4 cup sugar 2 tablespoons all-purpose flour 3/4 teaspoon ground cinnamon 1/4 teaspoon salt 1/8 teaspoon ground nutmeg 1tablespoon lemon juice
Directions:
Heat oven to 425°F. Place 1 pie crust in ungreased 9-inch glass pie plate. Press firmly against side and bottom.
In large bowl, gently mix filling ingredients; spoon into crust-lined pie plate. Top with second crust. Wrap excess top crust under bottom crust edge, pressing edges together to seal; flute. Cut slits or shapes in several places in top crust.
Bake 40 to 45 minutes or until apples are tender and crust is golden brown. Cover edge of crust with 2- to 3-inch wide strips of foil after first 15 to 20 minutes of baking to prevent excessive browning. Cool on cooling rack at least 2 hours before serving.
Pumpkin Pie
Ingredients
1 box Pillsbury pie crust
3/4 cup granulated sugar
1 teaspoon ground cinnamon
1/2 teaspoon pumpkin spice
1/2 teaspoon salt
1/2 teaspoon ground ginger
1/4 teaspoon ground cloves
2 large eggs
1 can of pumpkin purée
1 can of evaporated milk
Directions
Mix sugar, cinnamon, salt, ginger and cloves in small bowl. Beat eggs in large bowl. Stir in pumpkin and sugar-spice mixture. Gradually stir in evaporated milk.
Pour into pie shell.
Bake in preheated 425° F oven for 15 minutes. Reduce temperature to 350° F; bake for 40 minutes or until knife inserted near center comes out clean. Cool on wire rack for 2 hours. Serve immediately or refrigerate.
Managing both the dinner and dessert on Thanksgiving can be a struggle. Thankfully both these recipes make it simple and easy to impress your family this holiday!